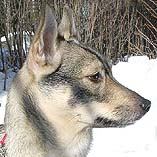 "Temperament OK."
"Character OK."

Wera Hübenthal
4.8. 2006

"Utmärkt hals & rygg."
"Excellent neck & back."

Owe Germundsson
INT 5.8. 2006

"Ädelt huvud."
"Noble head."

Anders Cederström
12.8. 2006

Heds Bellis De Lux "Bella"
Natural bob / ST
s. / d.o.b / född.: 24 October 2003 (SWE)
IMP. : 21 June 2005
Bitch / tik
HD ua (SWE) , ED / AD 0-0 , PL 0-1
Eyes / ögon J1 = ua / healthy

Bella is my first import. She has been shown with some good critique and she competes in agility in MINI 2 class. We have also been training "blood tracking" and obedience with her. Bella has gotten better showresults when older. She has even been BOB and BOB-VET winning my MultiCH Jonni in 2012 ! I am hoping we will finish her CH-title some day.

Bella är en svenskfödd tik. Hon är utställd på några gånger och hon tävlar i agility i MINI 2 klass. Jag har tränad viltspår och lydnad med henne. Bella har blivid bättre vid ålder: hon har fått bättre utställningsresultat som veteran. Hon är som vin som blir bättre vid ålder.

Grey / grå , 31 cm , ca. 8,6 kg
All teeth with a correct bite / fulltandad med korrekt bett.
left upper P4 and rigth upper P3 missing (taken away) / v P4 och h P3 (båda uppe) saknas (tagits bort).
3 x CAC

(1 x RUS, 2 x FIN), 1 x BOB, 1 x BOB-VET, 1 x BOS-VET, 2 x BOS /
3 x CERT (1 x RUS, 2 x FIN),1 x BIR, 1 x BIR-VET, 1 x BIM-VET, 2 x BIM
Shown 8 x Open Class VERY GOOD / utställd med 8 x Ökl 1.
3 x CLEAR ROUND in MINI 1 Class / 3 x UPPFLYTTNINGSPINNE i Klass 1 Þ
upgraded to MINI 2 Class / uppflyttad till Klass 2.
Charactertested / karaktärtestad, känd mental status med GK skott (skottfast)
Herding tested (NO HERDING INSTINCT) / vallanlagstestad (INGA VALLANLAG) (-07)
Herding tested (GOOD HERDING INSTINCT) / vallanlagstestad (BRA VALLANLAG) (-10)
MH-test, skott = 1 / MH-tested, no reaction to shooting
Exteriörbeskriven / breed examinated (9.12. 2006)
Friendly towards friends, reserved towards others /
vänligt mot vänner men lite blyg med andra.