4.12. Mycket har hänt. 13.-14.8 Joensuu utställning. Jonni BH-2, BIM-VET och BH-3, BIR-VET. Ruri BH-3 och BIM. Bella Ökl EXC/2 . 11.9. Tallinn, Estonia, utställning. Bella Ökl 1/1, Ruri BIR, CERT och EE UCH. 17.-18.9. Lieksa agility. 5 starter och vi fick en nolla och uppflytningspinne. 7.10. vi hämtade Danga's Stina-Ö från Sverige ! Hon gick till Oulu för att bo i en foster hem. Hon ska bli min blivande agvelstik i framtiden om allt går bra ! Tack Ingela för att du sålde henne till mig !! Hon är härligt !!! 15.10 Ruri tävlade i agility här i Joensuu. Inga nollor. 23.10. bella var tredje i veteraner i en Match Show och 24.10. hon fyllde 8 år ! Grattis ! 5.11. Ruri tävlade i Pieksämäki och vi fick vår tredje nolla och var upflyttad till Klass 2 !!! Vi var också på andra plats ! 8.11. vi givk till en tandläkare i Jyväskylä och 2 tänder var tagit bort från Bellas mund. 26.-17.11. rally-Lydnad och agility i Hyvinkää. I rally vi var diskad, bara 57 poäng. I agility Ruri blev tredje i den andra banan. 4.12. var en dag som jag ska inte glömma !! Ruri fick sin BRAGDHUND -plakett i Vinnare 2011 -utställning. Han räddade min mor i 2010. Tack Ruri !!! / Lots has happened. Jonni has been BOS- and BOB-VET, Ruri has become EE CH, Ruri has been upgraded in agility to Class 2, we have gotten a new dog: Danga's Stina-Ö from Sweden. Thanks to Ingela for selling her to me ! She is a lovely young lady ! Stina lives in Oulu in foster care. And to top this year: 4.12. Ruri was awarded among 14 other dogs in Winner 2011-show for saving a life. Ruri saved my Mum's life in 2010 when she had her sugar levels down and Ruri woke her up just in time before she went to a coma. Without him she would have died. Thank you Ruri ! Below are pictures from the award ceremony.
| | |
| --- | --- |
| | |
6.8. Agitävlingar här i Joensuu. Ruri tävlade 3 starter, en femte plats med femman och lite lite övertid, den andra banan var DQ och i den tredje vi fick vår FÖRSTA NOLLA och uppflyttningspinne till Klass 2 !!! Hurra !!! Bella tävlade an start och var femte med femman och övertid. / Agility competitions here in Joensuu. Ruri competed 3 courses. On the first we almost made a clear round but I made a too tight arear cross on the tunnel so the dog turned back and we got a fiver for the refusal and also timefaults. The second run I fucked up with my leading so we were DQ. Mea culpa !!! On the last run all trhe pieces got together and we made a nice clear round !!! We could have gone faster but I held the dog in tigh rule a bit too much. But a clear is a clear ! Hooray ! Bella competed only once. She got one down and timefaults and 5th place so not bad.


2.6. SKV Rasspecialen / Specialty, Tånga Hed, (S). Ruri Ökl / Open Class VG, Bella Ökl / Open Class EXC, Jonni VET EXC
8.6. 21.5. Lieksa agitävlingar. Ruri 2 x DQ, Bella 2. och DQ.
2.6. SKV Rasspecialen i Tånga Hed, Sverige. Bella Ökl EXC och hon var i top-6 Ökl tikar men var inte placerad. Ruri Ökl VG och Jonni Veteran Klasse EXC men inte placerad. 4.6. Ruri tävlade i rallylydnad (67 poäng) och alla tre hundar i agility. Ruri och Bella fick 2 x DQ, Jonni fick 5 och 0. / 21.5. Lieksa agility competitions. Ruri 2 x DQ, Bella 2. and DQ och var på andra plats.
2.6. SKV Specialty in Tånga Hed, Sweden. Bella Open Class EXC and she was among top-6 Open Class bitches but was not placed. Ruri Open Class VG and Jonni Veteran Class EXC but was not placed. 4.6. Ruri competed in Rally-O (67 points) and all three in agility. Ruri and Bella got 2 x DQ, Jonni got 5 and 0 and was placed 2nd.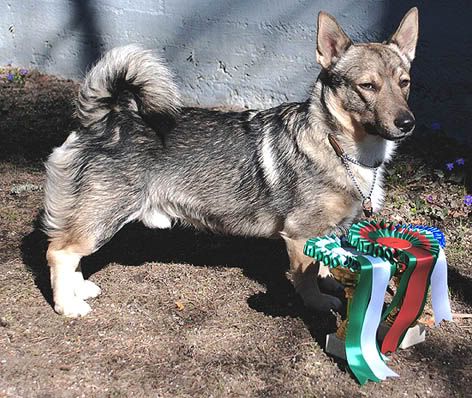 En ny FI UCH / new FI CH !!!!
7.5. Ruri fyllde 2 år 5.5. och idag i Tohmajärvi Grupp utställning han fick hans sista CERT och blev FI UCH ! Domare var Liz-Beth Liljeqvist. Ruri var också BIM. Jonni var BH-2 och BIR-VET. Bella fick Ökl 1. / Ruri had his 2nd birthday on the 5th of may and today he finished his Champion-title by getting his last CAC by being BOS in Tohmajärvi Group show under Liz-Beth Liljeqvis. Jonni was BM-2 and BOB-VET. Bella got Open Class VG.
29.4. Mycket har hänt ! 19.3. Ruri och Bella tävlade i Kuopio i agility. Ruri var 6. och 8. och Bella 6. ! 22.4. Jonni blev 11 år !! Grattis !!! Han tävlade i samma dag i agility tävling här i Joensuu med mig. En fel på banan med tidfel och vi var FEMTE utav 30 hundar !!! 23.4. Bella tävlade i agility också och hon VANN båda started med nolla plus övertid. / Lots has happened ! Ruri and Bella competed in agility in Kuopio 19.3. and Ruri was 6th and 8th, Bella 6th. 22.4. Jonni had his 11th birthday ! Congrats to my Love !!! He and I competed in agility here in Joensuu the same day and we got one fault plus timefaults and we finished 5th out of 30 dogs ! The next day Bella WON both of her starts with clear rounds with timefaults.
18.3. Mycket har hänt ! Ruri var hälsoundersökts 9.2. : HD A, AD 0-0, PL 0-0 ! Vi har varit i två utställningar: 19.2. Tuusniemi: Jonni både BIR och BIR-VET, Bella BT-2 med RES-CERT och Ruri BH-3 med RES-CERT. Och i Juuka 5.3. Ruri var BIR med hand ANDRA CERT och Jonni var BH-2 och BIR-VET !! I Joensuu agitävlingarna 26.2. Bella VANN och var på ANDRA PLATS, Jonni och Niina var 6.! / Lots has happened ! Ruri has been health checked 9.2. with results: HD A, ED 0-0, PL 0-0 !!! We have been to two shows: in Tuusniemi 19.2. Jonni was both BOB and BOB-VET, Bella was BB-2 with RES-CAC and Ruri BM-3 with RES-CAC. In Juuka 5.3. Ruri was BOB (won over his dad !) and got his 2nd CAC, Jonni was BM-2 and BOB-VET. In Joensuu agility competitions 26.2. Bella WON and was in 2nd place and Niina was 6th with Jonni.
16.1. Ett nytt år har börjat. Vem vet vad det tillbringer oss...! / A new year has started. We are planning new adventures!
2011
6.12. 21.11. Ruri var MH-testad med ETTAN i skottet !!! Och Ruri och Bella tävlade i agility i Joensuu 6.12. där Ruri nästan gjorde sin första nolla. Vi fick femman och var fjärde i första tävling och Ruri blev TRDEJE i den andra !!! Bella var på ANDRA PLATS (årets 8 placering !) och diskad i hennes 2 tävlingar. / 21.11. Ruri was HM-tested (one type of charactertest) and he got great result and was secure to shots. Both Ruri and Bella competed in agility in Joensuu 6.12. and Ruri almost did a clear round on his first go ! He was 4th and 3rd so his first podium place on his first ever agility competition !!! Bella was 2nd which is her 8th placing in TOP-3 this year ! What a way to end the year !
13.11. Vi tävlade i agility i Joensuu 23.10. och Bella var på ANDRA PLATS (årets sjunde placering !) och Jonni var diskad. Bella fyllde 7 år i 24.10. ! Grattis till min lilla flicka! Ruri har börjat att träna både Rally-lydnad som han är bra i, och agility. / We competed in agility in Joensuu 23.10. and Bella was 2nd, Jonni DQ. Bella had her 7th birthday on the 24th of September ! CONGRATS !!! Ruri has started his trainings in both Rally-O and agility. He loves Rally-O and is very good at it !!!
14.9. Vi har varit i några utställningar, bästa resultat var i Rasspecialen 1.8. när Ruri fick CK och var andra med 15 juniorhanar. Bella fick ettan i Öppen klasse och Jonni vann veteranhanar med ettan. Domaren ville ge HP men inte CK. Vi har inte HP i veteraner. Kritiken var jättefint. 24.7. Ruri och Bella var vallanlagstestad och Ruri fick UTM och Bella BRA. 12.9. Ruri tävlade i hans första inofficiella agitävling och blev tredje !!! / We have gone to some shows and the best results were in Specialty in 1st of August. Ruri got EXC and was 2nd among 15 junior class males, Bella got VERY GOOD in Open Class and Jonni won veteran males wit VERY GOOD. The judge did not want to give EXC to veterans but she did want to give HP but we don't have that in here. The critique was excellent though. Ruri and Bella were herdingtested during the summer. Ruri had EXCELLENT and Bella GOOD instincts. Ruri started his agility career in unofficial competitions on the 12th of this month by finishing 3rd !
8.5. Födelsedagar: Jonni blev 10 år i 22.4. och Ruri 1 år i 5.5. ! Grattis !!!! Aginyheter: Jonni fick DUBBELNOLLA i Pieksämäki 10.4. !!! Utställningar: 11.4. Bella och Ruri var i Kiihtelysvaara. Båda fick samma resultat: Bella Ökl 2, Ruri Jkl 2 ! Lieksa 8.5. Ruri var min enda anmälda hund. Han var BIR och fick sin första CERT ! :-))) / Birthdays: Jonni 10 years on the 22nd of April, Ruri 1 year on the 5th of May. CONGRATS ! Agility news: Jonni did a DOUBLE CLEAR in Pieksämäki 10.4. !!! Yeah ! Show news: 11.4. in Kiihtelysvaara Bella was Open Class GOOD and Ruri Junior Class GOOD. 8.5. Ruri was my only entered dog in Lieksa. He took home the lot: he was BOB and got his first CAC just 3 days over 1-year-old !!! :-)

5.4. Igår vi var i Lappeenranta utställning. Vi hade en jätte succé ! Ruri var BH-3 med RES-CERT i Juniorklasse (hans första! !!), Jonni gjorde den största överraskning : BIR och BIR-VET !!!! Hurra !!! Och min lilla Bella gjorde fint också: Ökl 1, Ökk 1 !!! Jag var så stolt av mina hundar !!! Idag (5.4.) Ruri fyller 11 månader. Grattis ! / What a weekend !!! Today Ruri has his 11-month birthday and yesterday we had a successful show day in Lappenranta. First Ruri, in his first adult show, was BM-3 with RES-CAC !!! Then Jonni hit the jackpot: he was BOB and BOB-VET ! I was blown away ! And Bella did well too: she won Open Class with VERY GOOD, so I had a wonderful day !!! :-)

3.4. Vi har tävlat agility i Lappeenranta och Joensuu. Jonni har fått en FM-nolla och Bella en placering på andra plats. Jonni har också tränad agility med Sirkku under Rauno Virta. Jonnis dotter Ruusa (Ruris syter) har fått hennes första CERT och BIR !!! Grattis !!! / We have competed in agility in Lappeenranta and Joensuu. Jonni has managed to get one clear round and bella on placing in 2nd place. Jonni's daughter (Ruri's sister) Ruusa was BOB and got her first CAC in Korpilahti on the 27th of march !! Congrats to all concerned.

13.2. Bella var i Eno utställning i 6.2. och fick Ökl 1 Ökk 1. Bra kritik ! Idag hon tävlade i agility i Varkaus och VANN hennes klass med nolla fel men övertid. Jonni tävlade med Sirkku men dom gjorde några feler. / Bella was shown i Eno in 6th of this month. She got VERY GOOD 1st in Open Class with a nice critique. Today Bella competed in Varkaus in agility and WON her class with a clear round, just overtime. Jonni competed with Sirkku but it was not their day.
5.2. Ruri 9 månader ! Grattis !! / Ruri 9 months old today ! Congrats !
bilder / pics (C) Annamaija Hautala

23.1. Vi var i Turku INT utställning. Jonni var BH-3, fick hans 61. ck (!!) och var BIM-VET. Geeba var BIR och BIR-VET och BIS-VET. Dagen domare var Carl-Gustav Stafberg från Sverige. Bella vann Öppen Klasse med ettan. :-) Ruris syster var BIM valp, Ruri var Valp Klasse 2 med HP. En bra dag. / Turku INT dog show. Jonni was BM-3 and got his 61st EXCELLENT !! He was also BOS-VET. Geeba took the lot. Bella won Open Class bitches with VERY GOOD. Ruri got Puppy Class 2 with HP and his sister was BOS-puppy. :-) Great day
1.1. 2010 GOTT NYTT ÅR !! / HAPPY NEW YEAR !!
Mina hundar i Julen / My dogs in Christmas !!!!